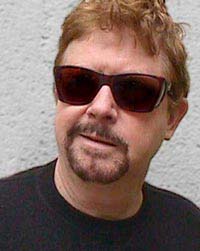 anyone who truly knows me knows that my favorite author (idol, guru, revolutionary, thinker, spiritual leader, man) is tom robbins. i've read all 9 books (most of them more than once), they were the only books i brought with me when i moved to san francisco because i knew that they were the only books i would ever need. tom robbins was born on july 22nd 1936, here's a few ways to celebrate a great man & possibly the best author ever:
read (or reread) one of his mind-altering books. i recommend

still life with woodpecker

, which was my first tom robbins book & also my absolute favorite. other favorites:

skinny legs & all

,

jitterbug perfume

,

even cowgirls get the blues

&

another roadside attraction

.

for those you have read all of his books try reading

tom robbins: a critical companion

. (i'm starting it today!)

stop by the aftr life & get to know tom, his books & his fans better.

make tom's favorite food & eat it. ingredients: salt & pepper, wonder bread, 2 ripe tomatoes & best foods mayo. or eat one of the foods that are prominently featured in his books: beets, mushrooms, asparagus or blackberries.
for those that are close to washington - take a road trip to la conner & seattle & explore tom's stomping grounds & hope that you might just see him.

for those that are close to north carolina - take a road trip to blowing rock where tom was born.
write on a typewriter, preferably a remington sl3 ;) .
join daffy yum & read a page of one of tom's books everyday.

do not

watch gus van sant's

even cowgirls get the blues

, the movie is an embarrassment when compared to the book. when i finished watching the movie i was just horrified, don't waste your time.
go hunting for mushrooms (make sure you know how to safely do that) &/or eat some magic mushrooms.
read a book that tom likes: understanding media by marshal mcluhan,

the archaic revival

by terrence mckenna,

the tao of physics

by fritjof capra,

the book: on the taboo against knowing who you are

by alan watts,

creative mythology

by joseph campbell (while i haven't read this book, i do highly reccommend campbell),

the banquet years

by roger shattuck,

the woman's encyclopedia of myths & secrets

by barbara g. walker,

news of the universe

by robert bly,

the varieties of religious experience

by william james. (list from aftr life bookstore)
"it is never too late to have a happy childhood." start now!

play aftr life's tom robbin rad libs.
choose yum rather than yuck as your mantra.
be an outlaw!

does anyone have any other suggestions on how to celebrate tom's birthday? let me know!